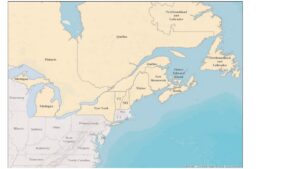 Total U.S. – Canada annual trade averaged about $588 Billion a year between 2015 and 2021.Workbook: Dashboard_State by Port (dot.gov)
Over 60 percent of this traffic passed through EBTC Region ports of entry.
The COVID pandemic caused an $86 Billion trade volume drop from $612 Billion in 2019 to $526 Billion in 2020.  In 2021, U.S. – Canada trade rebounded to $664 billion.
EBTC ports of entry handled 57% of total U.S. – Canada trade, 78% of total truck traffic, and 63% of total rail traffic.
Border U.S. states are not the only ones that benefit from a trade relationship with Canada.
According to the U.S. Census Bureau, over the 4-year period 2018 to 2021, 32 States counted Canada in their top 2 global trading partners and 18 States counted Canada as one of their top 5 trading Partners. USA Trade Online – Choose members (census.gov)
This reliance of trade on infrastructure located in the EBTC Region highlights the importance of an efficient border transportation system to link the United States and Canada.