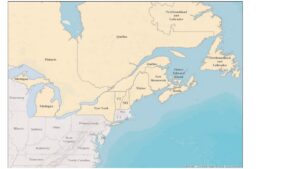 Total U.S. – Canada annual trade averaged about $615 Billion a year between 2015 and 2022.Workbook: Dashboard_State by Port (dot.gov)
About 55 percent of this traffic passed through EBTC Region ports of entry.
The COVID pandemic caused an $86 Billion trade volume drop from $612 Billion in 2019 to $526 Billion in 2020. U.S. – Canada trade rebounded to $664 billion in 2021 and $793 billion in 2022.
EBTC ports of entry handled 54% of total U.S. – Canada trade, 77% of total truck traffic, and 60% of total rail traffic.